7 Days City Hotel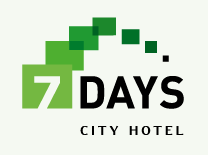 Hotels


A comfortable rest for the trip is available at the 7 Days City Hotel located in a unique property Menorah Center.
The Menorah is a unique building, equal to none in the world. The Center consists of seven towers symbolically resembling the menorah of the Temple. The Menorah is located in the very center of Dnepropetrovsk, at the crossroads of the main transportation flows connecting the right and the left banks of the Dnieper River. A great number of services to residents and visitors alike are available at a center with an area of 50,000 sq.m. The complex offers a great opportunity for doing business and serves as a unique platform for a wide variety of activities and projects, commercial, charitable and social.
The Seven Days Hotel has 16 rooms in the minimalistic style, including spacious and comfortable doubles and triples. Each room is fitted with new furniture and bathroom fixtures, air-conditioning, and satellite TV.
There is a spacious lounge with soft chairs and a plasma screen. The hotel guests enjoy the 24-hour reception, as well as a wide range of additional options.